With the Teletalk emergency balance code, you can get a quick and easy way to get emergency funds for your Teletalk account. This can be helpful if you need to make an important call or need to top up your account quickly.
Teletalk emergency balance is a service that provides you with a small amount of credit when you run out of money and have no other way to make calls or send text messages.
This service is perfect for those who need to stay in touch with important people, but don't have the funds to do so.
Teletalk emergency balance code – How to get Teletalk emergency balance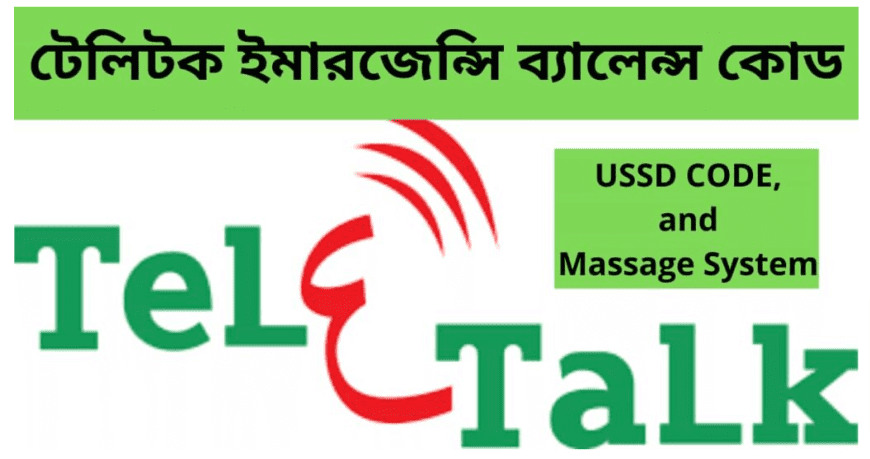 Teletalk emergency balance is the perfect solution for those unexpected emergencies when you run out of balance and there's no shop to recharge around.
This unique product gives you the ability to top up your account with just a few clicks, so you can keep talking without any interruptions.
Plus, Teletalk emergency balance is available at a fraction of the price of regular recharges, making it an affordable option for anyone on the go.
If you need emergency balance on your Teletalk phone, we can help. We'll give you the money you need to stay connected and in touch.
Plus, when you recharge your account, we'll add an extra amount for free so you're always prepared for whatever comes your way.
To get an emergency Teletalk balance please use the USSD Code. The following table list and dial the right USSD code.
| | | |
| --- | --- | --- |
| Teletalk Loan Amount | USSD Code | Service Free |
| 10 Taka | *1122# | Free |
| 10 Taka | *1122*10# | 0 Taka |
| 12 Taka | *1122*12# | 1.53 Taka |
| 20 Taka | *1122*20# | 2.55 Taka |
| 50 Taka | *1122*50# | 6.38 Taka |
| Check for the subscriber'scurrent debt | *1122*0# | Free |
টেলিটক ইমারজেন্সি ব্যালেন্স কোড এবং সকল কোড
About Teletalk Bangladesh
Teletalk Telecom provides an affordable, reliable, and convenient telecommunications service to the people of Bangladesh.
The Teletalk company has been controlled by the government of Bangladesh since 2004.
With a nationwide network that reaches even the most remote areas, Teletalk is the perfect choice for anyone who wants to stay connected.
Plus, Teletalk's low rates make it easy to keep in touch with friends and family all over the world.
How can I get an emergency balance in teletalk?
Dial *1122# to request a Teletalk advance loan with no additional charges. Send an SMS Loan to 1122 to request your maximum advance loan.
How do you do emergency balance?
To avail of the Emergency Balance, customers need to dial *1122# or SMS LOAN to 1122.
How to check Teletalk emergency balance?
To Check the Teletalk Emergency Balance status, dial *1122*0# Or SMS "LOAN INFO" and send it to 1122.
In conclusion,
If you are ever in a bind and need to add money to your Teletalk account, remember the Teletalk emergency balance code.
This easy-to-remember code can help you get back online and continue your conversations.
Please Keep this information in mind, and you will always be able to stay connected with loved ones.
Please make sure to share this article on social media under our search rankings.
Other articles can be read on our website.
Teletalk agami internet package
There are also considerable bargain and value-based deals available. I'd also like to say thank you for your company.
অনলাইনে ঘরে বসে টাকা ইনকাম, টেলিকম অফার, মোবাইল ব্যাংকিং সেবা অফার ও ইন্টারনেট থেকে সঠিক তথ্য পেতে আমাদের সাথে থাকুন।
জয়েন করুন আমাদের ফেসবুক পেজ।
আরও পড়ুনঃ
বিকাশ এজেন্ট একাউন্ট খোলার নিয়ম